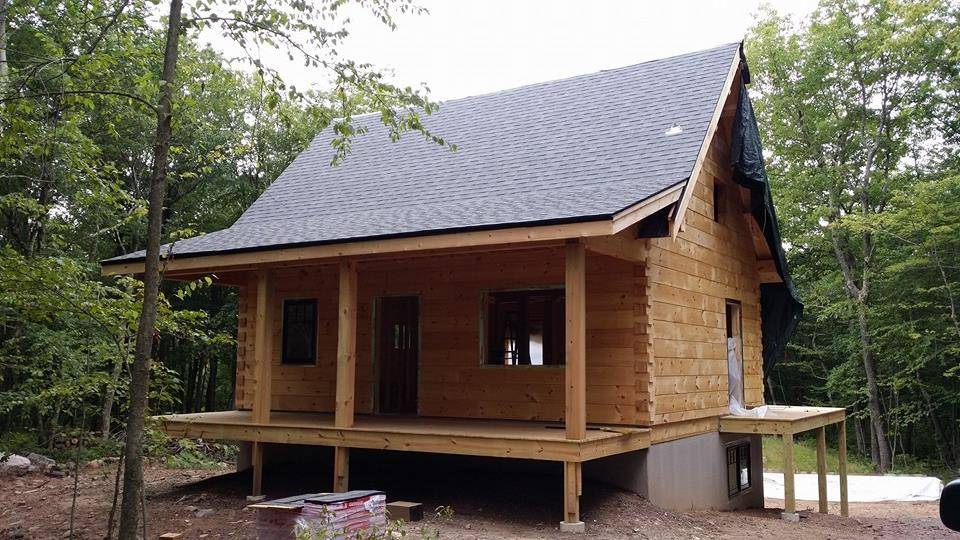 Last week you saw how Jack and Bob's Beam & Purlin roof system was assembled.  After they completed those phases, they applied the finishing touch – the shingles!  The couple was indecisive about which color shingle to choose, but after a short poll to their Facebook friends, they settled on Estate Grey.  We think they made a great choice. It looks fantastic!
 Log Home Construction: Weather-Tight Phase
Installation of exterior doors and windows is next.  This marks a very important stage in the construction process – the "weather-tight" phase (also known as the "dry-in" phase).  Chances are you're familiar with these terms – but not completely sure what they mean. Ultimately, the terms can be used interchangeably and refer to the stage where the exterior of your home is weather-tight, meaning, the inside of your log home is now safe from nature's elements (the inside is dry and will continue to be).  Your log home can be built any time during the year, but we typically see a flurry of building activity in an effort to get log homes "dried-in" before the snow flies.
What's an additional, exciting aspect of the weather-tight stage?  From the outside, construction of your custom built log home appears to be complete (given exception to some finishing touches on the porches/decks). Now that's cool!
Jack and Bob's single, most important goal right now is to get their log home to this weather-tight phase.  Inclement weather conditions have delayed their progress but they are making great headway.  Recently we caught up with the couple and they said, "We aren't getting frustrated…it will all come together.  In fact, every day we have spent researching, planning, designing, and building our log home has been very rewarding. At the end of every day, we step back to look at that house and what we have been able to accomplish, and think, 'We ARE actually building our dream home.'"  How exciting!
Log Home Construction: Window & Door Installation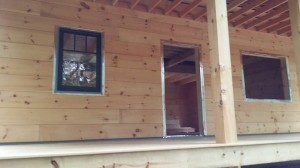 As you can see, the windows and doors have been prepped and the self-adhesive flashing has been installed.  Here's what the finished product looks like!  These windows are simple and classy, a very nice touch.  Keep up the great work, guys. You're *this close*.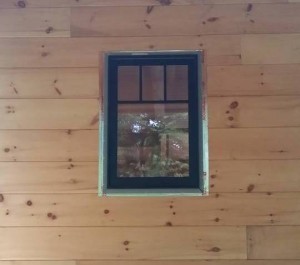 Timberhaven's overall window and door installation process is rather technical, and the proper attention must be given to these areas to prevent future air infiltration and water penetration.  As such, trying to explain the sequential and detailed process in this brief blog would not do it justice.  But if you do have interest in learning more about this techy process, consider joining us at our Construction Workshop on September 6th.  The workshop is perfect for do-it-yourselfers or even for those simply looking to gain a better understanding of the entire log home construction process.  If you can't make it to PA next weekend, we will devote a separate blog article to this topic in the future.  Stay tuned.
Log Home Construction: Standard Components
It is vitally important for you to know that all of the building materials referenced in this and previous blogs are standard components in Timberhaven's log home packages.  For example, window options consist of Andersen 400 Series, Anderson 200 Series or Weather-Shield windows.  Additionally, we provide Andersen patio doors and Therma-Tru exterior doors.  Having the opportunity to select from top-quality, name-brand components is paramount in the quest of realizing your dream log home – make sure you understand exactly what's being supplied in your package.
Summary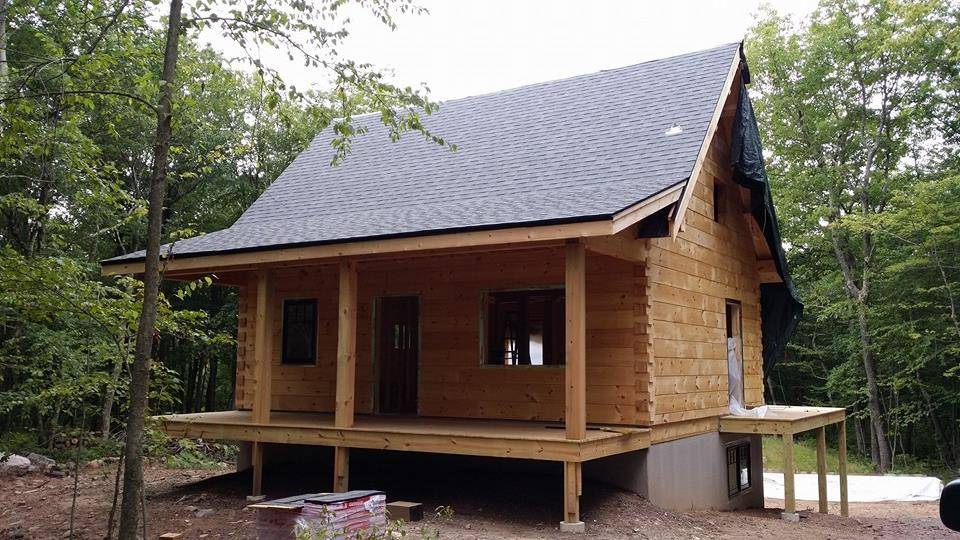 Article Name
Weather-Tight Phase: Custom Built Log Home
Description
Click to learn about the "weather-tight" construction process and what it means for your custom built log home under construction to be "weather-tight".
Author
https://www.timberhavenloghomes.com/wp-content/uploads/2014/08/10629832_762395517157856_660705726564230385_n.jpg
540
960
Bobbi Landis
https://www.timberhavenloghomes.com/wp-content/uploads/2017/07/timberhaven-logo.png
Bobbi Landis
2014-08-29 08:20:40
2017-07-27 23:30:58
Weather-Tight Construction: Custom Built Log Homes - Part 8