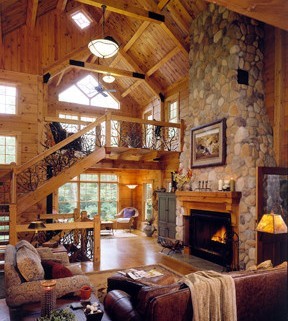 Roof systems are an integral component of any log home – not just structurally speaking but the ambiance of a log home is defined when you walk through the front door and look up. Timberhaven Log Homes provides options that meet unique style preferences and budgets. For our friends, Jack and Bob, there was no doubt they wanted Timberhaven's Beam & Purlin roof system in their dream log home. Let's take a closer look at this particular roof system along with some other roof options.
Roof Systems: Beam & Purlin
Last week you learned that members of a Beam & Purlin roof system are both exposed and structural. So the members are not only stunning to look at but are also designed to support the weight of the roof. Once the beams (vertical members) & purlins (horizontal members) are set into place, 1" tongue & groove (T&G) is secured to the purlins and the T&G is immediately covered with felt paper. Refer to Custom Built Log Home – Part 6 for details on these steps.
Atop the felt paper, builders will apply 2 layers of 4' x 8' sheets of rigid insulation for a standard R-38 insulation value. Depending on climate zone and local building codes – or personal preference – you may need a higher R-value. Timberhaven's Beam & Purlin system can be increased to achieve an R-49 rating. The insulation is secured with just enough nails to maintain placement until the furring strips are installed.
Furring strips – which are simply 2" x 4"s placed on their sides – are installed directly on top of the rigid insulation. The strips are applied 24" on center and placed from the fascia to the ridge of the roof. Timber screws are used to secure the furring strips, insulation, T&G and are fastened to the purlins. These furring strips create channels for which air can flow through your roof – this is very important as your roof needs to "breathe."
Next 4' x 8' sheets of OSB, plywood or Advantech are applied and secured with nails. This sheathing is standard in your Timberhaven log home package, and the final choice of material selection is yours.
The final layers include felt paper which is immediately applied in order to protect the sheathing, Ice & Water Shield, and lastly – the shingles or metal whichever you prefer.
Want a cathedral ceiling with beautifully exposed heavy timbers? The Beam & Purlin roof system may be the best option for you. The final outcome looks like this.
 Roof Systems: Heavy Timber Rafter Roof
What's the difference between a heavy timber rafter roof and a Beam & Purlin roof system? Visually speaking, only the vertical members (rafters) are exposed and are placed closer together than the beams in the Beam & Purlin system. Additionally, there are no horizontal members and the T&G runs the opposite direction (horizontally since there are no purlins in this system).  See the differences in the finished product below.
From a structural perspective, the remainder of the roof is constructed using the same method as the Beam & Purlin roof system.
Roof Systems: Pre-Fabricated Trusses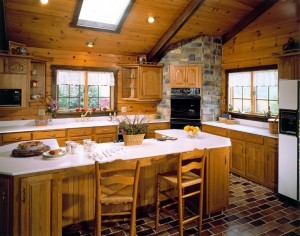 Unless decorative beams are used in areas where pre-fab trusses are in place, none of the roofing members in this system are exposed. It's still a beautiful look with the T&G on the ceiling as you can see in the photo to the right. In this particular area, a scissor truss is in use (which you cannot see) and a decorative beam is placed for "looks" and stained for contrast.
The assembly of a typical pre-fabricated truss system looks like this. The diagram depicts the use of a flat truss and this particular system offers the least expensive solution to Timberhaven's roof systems.
Roof Systems: Beautiful options…which one is best for you?
Roof systems deserve the utmost of attention and respect – during the initial designing phase and during construction. Please take the time to research your options, ask your representative what your roof system(s) will look like once constructed, and always (ALWAYS) be attentive and safe during the construction process. Make your roof system selection based on personal preference and budget – it will be beautiful no matter what you decide.
Summary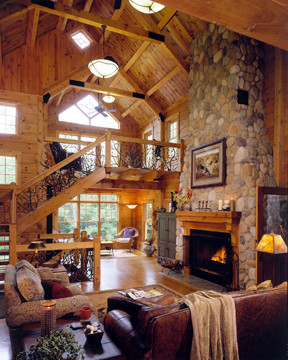 Article Name
Custom Built Log Homes - Roof Systems
Description
Roof systems of custom built log homes are complex and deserve your attention. Click to learn about what roof system options can be used in your log home.
Author
https://www.timberhavenloghomes.com/wp-content/uploads/2017/07/Tegeler_livgreat2.jpg
360
288
Bobbi Landis
https://www.timberhavenloghomes.com/wp-content/uploads/2017/07/timberhaven-logo.png
Bobbi Landis
2014-08-22 09:54:50
2017-08-03 01:35:33
Roof Systems - Custom Built Log Homes - Part 7