Timberhaven Log & Timber Homes, America's leading log home manufacturer, is seeking qualified individuals who are interested in operating an independent dealership. We'll provide the training and support, plus the highest quality products in the industry.
Is this something that interests you? Timberhaven has dealership opportunities available in a number of geographic areas.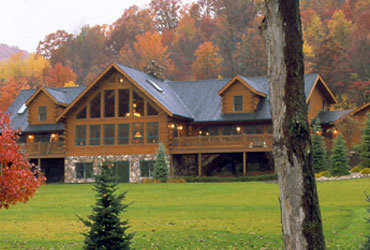 "We are the Fishers of Todd Fisher Construction, formerly a rep for Kuhns Bros. Log Homes for 29 years, and now a proud representative for Timberhaven Log Homes, LLC. We selected Timberhaven Log & Timber Homes because of their family values, experience in the lumber mill industry, and the kiln dried process. Timberhaven Log Homes provides quality materials in one of the most complete packages on the market."
Todd & Betty Fisher and Nicki Young
Authorized Sales Reps for Timberhaven Log Homes
Dealership Opportunities – Advantages
Award-winning literature: Plan Book, Scientifically Speaking-The Facts About Kiln-Dried Solid & Laminated Logs, 16-page informational brochure
Sales leads provided
Co-op advertising program and benefits from corporate's national advertising
Protected marketing territory
Training and ongoing support
Expert design and engineering support
Most competitive pricing
Work with the most respected industry leader
Through the assistance of more than 65 dealerships, Timberhaven log home packages are shipped across America and internationally. Some of our most accomplished dealers have a background in sales, construction, real estate or other related fields. Some operate in a full-time capacity, others part-time.
Timberhaven Dealers – Attributes
Enjoy sharing the dream of log home living with their customers.
Have a burning desire to be successful and a willingness to work hard in achieving that goal.
Operate their business in a professional manner and treat their customers in a fair and ethical way.
Would you like to learn more about joining our team?
If you too share these values and are interested in learning more about our dealership opportunities, please click to contact Brad Mercer or Joe Folker or call (570) 765-7293. We'll be happy to discuss the opportunity available in your area as log home sales professional.